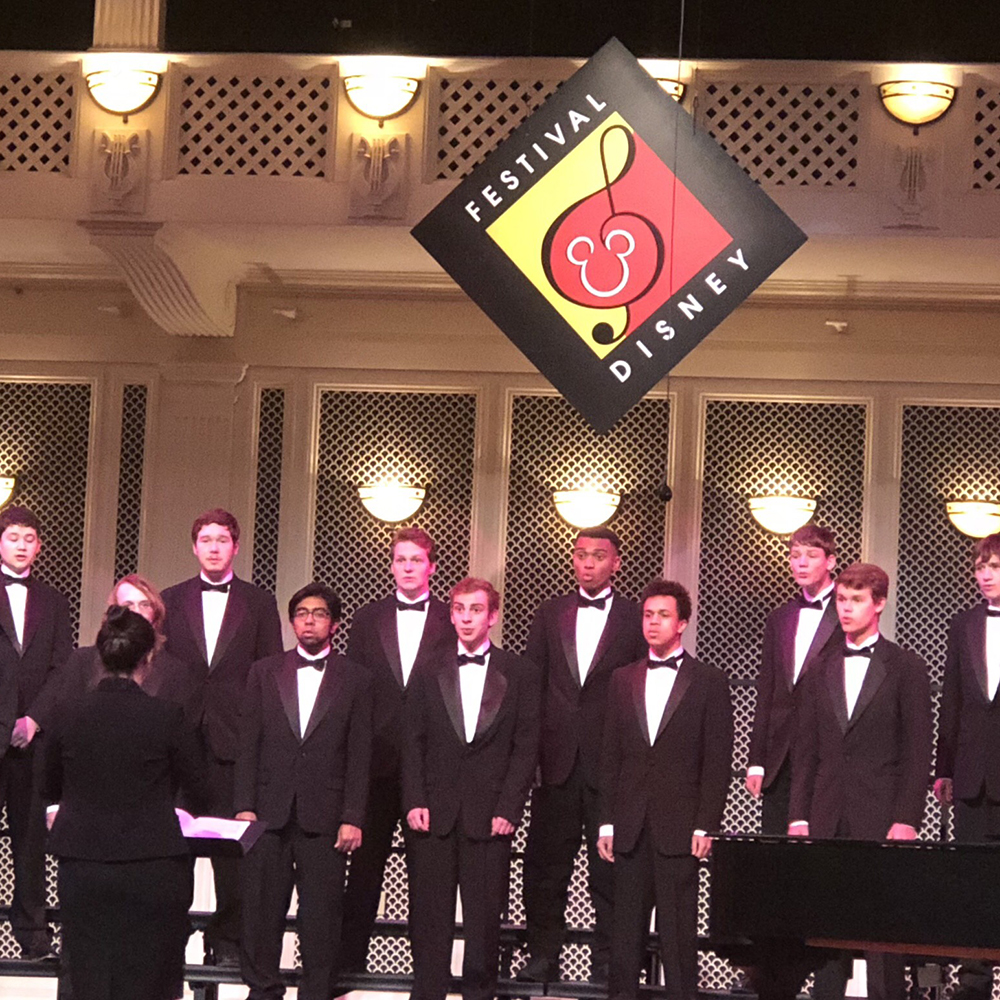 So what is Festival Disney and what is it all about? Festival Disney is a positive and educationally meaningful music festival for talented middle and high school concert choirs, orchestras and concert bands. It allows performing groups the chance to compete with other schools from across the country, while also having the opportunity to make once-in-a-lifetime memories.
Interested in participating in 2023? Here are the 2023 Festival Disney Dates:
March 10 & 11
March 16, 17 & 18
March 23, 24 & 25
March 30, 31 & April 1
April 13, 14 & 15
April 20, 21 & 22
April 28 & 29
In order to participate each ensemble must have a minimum of 20 student performers. Each school is invited to register a maximum of two (2) Concert Choirs, two (2) Concert Bands and/or two (2) Orchestras. (Note that Festival Disney is not able to accommodate specialty ensembles such as jazz bands or show/jazz/madrigal choirs.)
Festival Disney has specially selected, nationally recognized adjudicators who provide detailed, positive feedback to all ensembles through written and recorded comments as well as personalized feedback clinics following concert performances. Competitive and non‐competitive options are available.
Past Choral Adjudicators are:
Dr. Mitos Andaya, Temple University
Dr. Jerry Blackstone, University of Michigan
Dr. William Powell, Auburn University
Dr. Rosephanye Powell, Auburn University
Dr. Russell Robinson, University of Florida
Dr. Hugh Floyd, Furman University
Dr. John Sinclair, Rollins College
Past Instrumental Adjudicators are:
Dr. Ken Dye, University of Notre Dame
Dr. Catherine Rand, University of Southern Mississippi
Prof. Joseph Hermann, Tennessee Tech University
Dr. Anthony Pursell, University of Central Missouri
Dr. Stephen Benham, Duquesne University
Prof. Keith Bearden, Texas Tech University
Dates for Festival Disney 2023 will sell out so don't wait! Start planning your performance trip with UR Tours and Events.
Whether you're looking to travel with your students across the country or around the world, we're committed to delivering a unique, meaningful experience for you and your students. Let UR Tours and Events be part of your next travel experience.
"To all my music educator friends….you would be crazy not to use Livy with UR Tours for any trips you might be planning! This past weekend was the third time I used her and she is the best. Thanks for taking care of us the weekend Livy. We had a blast!"
"Teacher friends, or anyone who wants to plan a trip for a group I cannot express how amazing Livy and UR Tours and Events is to work with to create a wonderful experience. I've worked with Livy for twelve years including five performance trips to Walt Disney World and two workshop/Broadway show trips to New York City. Simply THE BEST!"
"To all my music educator friends….you would be crazy not to use Livy with UR Tours for any trips you might be planning! This past weekend was the third time I used her and she is the best. Thanks for taking care of us the weekend Livy. We had a blast!"
"I couldn't have asked for a better trip. I was nervous about traveling as a chaperone with 30+ high schoolers, as I have been on badly organized trips, but this was amazing! Enough information was handed out before hand and, as unexpected things came up (Covid-19 national crisis) . . . . Thanks for a great trip!"
"I wouldn't recommend any other company to plan our trips. They are well organized and always have my student's best interest in mind. The trips I have taken with them (Hawaii, California and Florida) have always run smoothly. I can't recommend them enough."