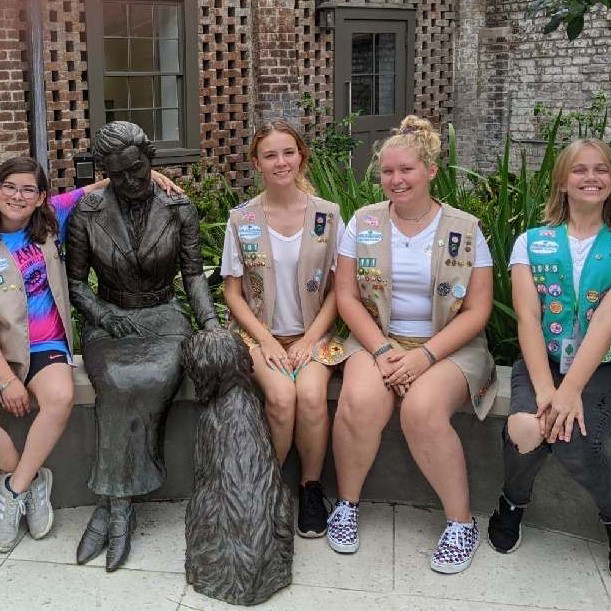 Girl Scouts love Savannah, GA…
Each year, Girl Scouts from across the country make the pilgrimage to visit Savannah, GA. Here they can visit the birthplace and gravesite of Juliette Gordon Low, the founder of the Girl Scouts.
They will also find the Andrew Low house where she lived. Discover the fascinating life of Juliette Gordon Low a multi-talented woman who shaped the world of young women around the world.
This trip is extremely popular and special for many reasons. For some girls, this is their first trip away from home, so what better way to experience Savannah with your fellow girl scouts and best friends. Not only is it a chance for your troop to learn more about the history of your organization, but to have fun as well. Your troop can be immersed in a number of Girl Scout related activities.
Having the opportunity to be in the same city where Girl Scouts all started is pretty incredible, but Savannah is an awesome place to visit in general.
Are you interested but don't know where to start? Let UR Tours and Events help you put together a trip that is right for you. We will provide everything from transportation and lodging to backpacks and luggage tags. All you need to worry about is how much fun you will have with your troop.
See you soon in Savannah, GA!!!
Whether you're looking to travel with your students across the country or around the world, we're committed to delivering a unique, meaningful experience for you and your students. Let UR Tours and Events be part of your next travel experience.
"To all my music educator friends….you would be crazy not to use Livy with UR Tours for any trips you might be planning! This past weekend was the third time I used her and she is the best. Thanks for taking care of us the weekend Livy. We had a blast!"
"Teacher friends, or anyone who wants to plan a trip for a group I cannot express how amazing Livy and UR Tours and Events is to work with to create a wonderful experience. I've worked with Livy for twelve years including five performance trips to Walt Disney World and two workshop/Broadway show trips to New York City. Simply THE BEST!"
"To all my music educator friends….you would be crazy not to use Livy with UR Tours for any trips you might be planning! This past weekend was the third time I used her and she is the best. Thanks for taking care of us the weekend Livy. We had a blast!"
"I couldn't have asked for a better trip. I was nervous about traveling as a chaperone with 30+ high schoolers, as I have been on badly organized trips, but this was amazing! Enough information was handed out before hand and, as unexpected things came up (Covid-19 national crisis) . . . . Thanks for a great trip!"
"I wouldn't recommend any other company to plan our trips. They are well organized and always have my student's best interest in mind. The trips I have taken with them (Hawaii, California and Florida) have always run smoothly. I can't recommend them enough."