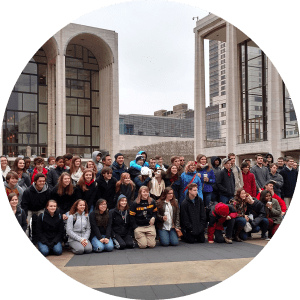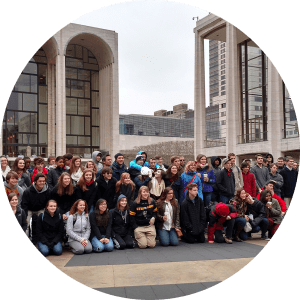 At UR Tours & Events we have a saying: Step out of the classroom. Travel is truly the perfect example of educating through first-hand experience. Travel offers skills, knowledge and experience that can only be acquired outside of the traditional academic classroom setting. Educational travel provides students the opportunity to expand their understanding of science, history, art, music, culture and language in ways they can't even imagine.
Traveling forces students to step out of their comfort zone, be exposed to different cuisines, cultures and helps them realize how diverse our world truly is. When on an educational tour, students broaden their understanding of every aspect of the place and its people. Students gain first hand experiences which then allows teachers to expand the topic; something not usually possible in the traditional classroom. One of the most important benefits of an educational tour is that it subtly develops an understanding of various social issues. Students gain a better understanding of local and global issues. They become more empathetic and respectful towards other cultures as well as towards their own surroundings.
Educational travel exposes students to gain confidence, perspective, individuality, growth and independence. Students learn about teamwork, responsibility, self-awareness and gain a desire to explore the world around them. There are many life lessons that simply cannot be taught in the classroom. Student travel is truly the best education money can buy. With so much to learn it's easy for teachers to simply be overwhelmed with the planning aspect of a student trip. UR Tours & Events will take care of the planning while you focus on the educational trip experience.
Whether you're looking to travel with your students across the country or around the world, we're committed to delivering a unique, meaningful experience for you and your students. Let UR Tours and Events be part of your next travel experience.
"To all my music educator friends….you would be crazy not to use Livy with UR Tours for any trips you might be planning! This past weekend was the third time I used her and she is the best. Thanks for taking care of us the weekend Livy. We had a blast!"
"Teacher friends, or anyone who wants to plan a trip for a group I cannot express how amazing Livy and UR Tours and Events is to work with to create a wonderful experience. I've worked with Livy for twelve years including five performance trips to Walt Disney World and two workshop/Broadway show trips to New York City. Simply THE BEST!"
"To all my music educator friends….you would be crazy not to use Livy with UR Tours for any trips you might be planning! This past weekend was the third time I used her and she is the best. Thanks for taking care of us the weekend Livy. We had a blast!"
"I couldn't have asked for a better trip. I was nervous about traveling as a chaperone with 30+ high schoolers, as I have been on badly organized trips, but this was amazing! Enough information was handed out before hand and, as unexpected things came up (Covid-19 national crisis) . . . . Thanks for a great trip!"
"I wouldn't recommend any other company to plan our trips. They are well organized and always have my student's best interest in mind. The trips I have taken with them (Hawaii, California and Florida) have always run smoothly. I can't recommend them enough."