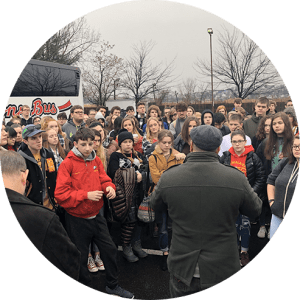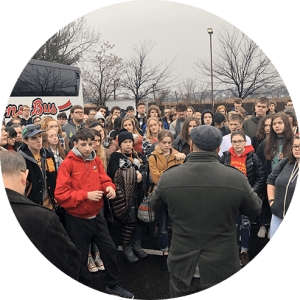 Planning a student trip is unlike a family vacation in many different ways. For one thing, the time it takes to plan. Have you ever wondered how many hours goes into planning a student trip? A LOT! We are talking months and in some cases over a year of tour planning. Just when you think you have thought of all the details there is always something that comes up. Let's not even mention what you should anticipate.
We know teachers are busy! We know you work weekends too! Not only do you have the Monday to Friday teaching time, but there's also the grading, the planning, the professional development…and the worrying. With all this stress, it may seem that planning a student trip would be impossible.
This is where we come in! When you choose the right student tour company, you will see that student group travel is much easier than you thought. UR Tours and Events offers travel solutions that save your student group time and money, while still providing an unforgettable travel experience. We listen to our group leaders closely and work with your budget. We work for you in all aspects of the travel planning process. We are with you from beginning to end, including hotel accommodations, transportation, tickets, meals, sightseeing, special events, and unique performance venues, plus much more.
Every student group is unique and every school has its own trip objective so you shouldn't be forced to fit your needs into a cookie cutter trip itinerary. A good student tour company will understand your needs and then put together a custom tour itinerary including any special requests that you may have. It will also be able to work directly with parents in providing trip information, collecting money, answering questions anticipating the details and most importantly preparing for the unexpected.
Finally, we understand that your student trip may be the only time a student gets to travel or visit a particular destination. Travel is something that stays with students long after your tour is over. They will remember what they saw, learned and experienced. Travel makes a difference. At UR Tours and Events we understand the responsibility that we have when you choose us to be part of your student group tour planning.
Whether you're looking to travel with your students across the country or around the world, we're committed to delivering a unique, meaningful experience for you and your students. Let UR Tours and Events be part of your next travel experience.
"To all my music educator friends….you would be crazy not to use Livy with UR Tours for any trips you might be planning! This past weekend was the third time I used her and she is the best. Thanks for taking care of us the weekend Livy. We had a blast!"
"Teacher friends, or anyone who wants to plan a trip for a group I cannot express how amazing Livy and UR Tours and Events is to work with to create a wonderful experience. I've worked with Livy for twelve years including five performance trips to Walt Disney World and two workshop/Broadway show trips to New York City. Simply THE BEST!"
"To all my music educator friends….you would be crazy not to use Livy with UR Tours for any trips you might be planning! This past weekend was the third time I used her and she is the best. Thanks for taking care of us the weekend Livy. We had a blast!"
"I couldn't have asked for a better trip. I was nervous about traveling as a chaperone with 30+ high schoolers, as I have been on badly organized trips, but this was amazing! Enough information was handed out before hand and, as unexpected things came up (Covid-19 national crisis) . . . . Thanks for a great trip!"
"I wouldn't recommend any other company to plan our trips. They are well organized and always have my student's best interest in mind. The trips I have taken with them (Hawaii, California and Florida) have always run smoothly. I can't recommend them enough."